Review For: Glest
Date Written: April 24, 2005
Compatibility: Windows 98/ME/2000/XP
License: Free
Download/Site Link: http://www.glest.org/
Rating: 5 out of 5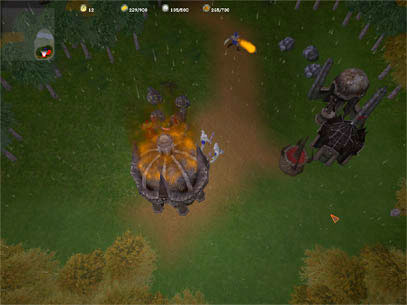 Glest is a game very similar to Age of Empires, where you must build up a civilization and army to protect your area and defeat your opponentís area by destroying them completely. You can play on one of four different maps: Four Rivers, Riverside, The Island, and The Ruins. On each of the maps you have the option of playing in the winter or summer. Unfortunately there is no online play, but you can have up to 3 other AI players with two levels of difficulty.
Game Play
Just like with Age of Empires, this game had me hooked in the first few minutes. The interface was easy to figure out (which made up for the missing manual) and I was able to start playing immediately and having fun. However, this game does require some practice and I can almost guarantee you are going to lose quickly a few times before having any long games. The only real problem I had with the game play was that before I turned certain performance features off, moving the mouse and what not was slow and hard to control. Even after disabling a lot of the performance features I had some slight lag. Though, if you have a decent graphics card, I doubt you will run into any of my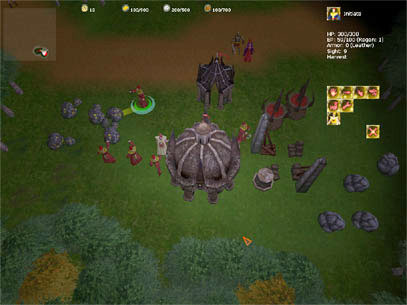 problems (I have a good computer but a horrible graphics card).
Graphics
The graphics were great even with a lot of the performance features turned off, being almost or just as good as similar commercial games of this theme. Also the menus with the 3D background tour around some castle made me think this game would be great from the very beginning. As for during game play, there are some pretty neat characters you can have in your army that are fairly detailed, ranging from mages to dragons to daemons. Also, the various buildings are very detailed and when you get a bunch of them together it looks awesome.
As for the actual maps, I was sort of disappointed since there were a lot of similarities between them all, but the maps still look great. Anyways, if you do get bored of the maps you can get a hold of new maps at Glestís site or for the more devoted of us all, you could make your own map using the Glest editor pack.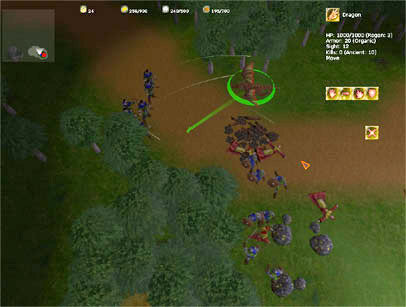 Sound
The sound effects and music have to be the least lacking part of this game. The music will change according to certain events and will transition off and on every so often so you donít get sick of it. The sound effects are also quite good and the phrases the characters say add that little extra to the game. Once again, they also donít overdo the characterís phrases, which means if you click 10 characters one after the other repeatedly, they wonít always say something. I was very impressed with the transitions of music and sound and there really isnít anything I can criticize negatively about in this section.
Glest is a commercial quality game for free and I highly recommend that everyone give it a try. Also, as a bonus, the installer is only about 37MB, so even the dial-up users donít have much of an excuse to not try out this game.